9:37 pm
[windfallfeather]

All's I have to say is this:
Sealed deck Strip M:tg (using unhinged boosters) = best game evar.
Just though I should share that with everyone.
[x-posted to own LJ]
Current Mood:
geeky
3:42 am
[squirrelygurl]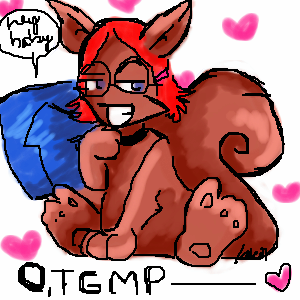 hehhehheh
Strip Clubs.
"Oops, There go my pants" afectionaly dubbed OTGMP.
"The Nut Hoarder" Filled with men in corsets and heels dancing. :9
kekekeke.
Current Mood:
otgmp!
12:24 am
[julius12]

Whether interested in taking me up on it or not, I think
my most recent post
definately qualifies as some funny random shit, so check it out, lol.
Current Mood:
amused
1:42 am
[squirrelygurl]

Welcome to DDR Orgy, a community for those who wish to post random silly things.
We were in Steak and Shake tonight ( windfallfeather, _tactics, koinuyasha, and I) and we came up of the idea of this livejournal community! So, the public can post here, and stuff, and then email us if you'd like to join.
Basically, we talk about everything and anything. DDR, Anime, Porn, Ingo eating the babies, etc. We even talk about porn bloopers.
Well, at least I do.
All applicants are screened through me right now, and stuff. So post if you'd like to join, then apply to join! and.. i'll like...
.. add you and stuff.
So to commemorate the first postingness in this community, I give you this wonderful crayon drawing i did!

Current Mood:
accomplished